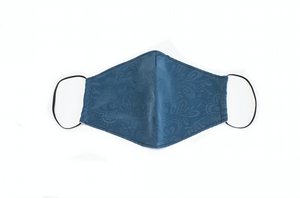 Proceeds from the masks will go towards covering fair wages and materials for the cotton masks that we are sending to healthcare and essential workers, high risk individuals and those that need financial assistance.   
Washable face mask with satin face fabric and 100% cotton lining.
Trimming Used: Elastic
Ships out within approximately 7 business days

Elastic: 8" 



Reusable and machine washable
Original Cotton material
Made in the USA
Non-Returnable / Final Sale 
CARE: Hand-wash the mask in warm water with a minimum temperature of 90F (32C) and detergent, then hang to dry. For machine wash wash satin style masks with the delicate cycle, then hang to dry. For all other cotton style masks, masks can machine wash and tumble dry low or hang to dry. Bleach is not recommended and will ruin the color of the mask. If the weather permits, hand it in the sun for an hour. Wash your hands for 30 seconds after removing the mask.
After washing, you can iron on low setting (do not iron elastic). It is recommended to use a silk fabric scrap between mask and iron as this will help lengthen the life cycle of the fibers.
DISCLAIMER: This is not a medical mask and is only to be used as an extra precautionary measure in addition to hand washing and refraining from touching your face as recommended by the CDC.